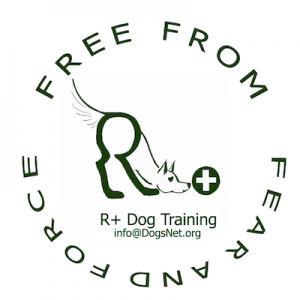 Have a happy, fulfilled dog that you can take anywhere.
Safe one-to-one training outdoors is now available subject to current government guidelines. Contact R+ Dog Training now to book.
More details on COVID-19 including how to obtain your COVID-19 Survival Guide and Life After Lockdown training are available here.
Keep in touch with regular updates and news on my sister site at DogsNet.org
Keep well and safe.
---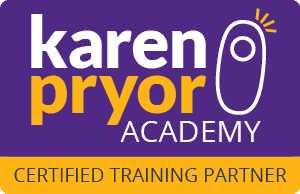 R+ Dog Training uses non-aversive training methods backed by science and introduced by a qualified professional, certified to one of the highest standards in the world, the Karen Pryor Academy Certified Training Partner. Find out more by watching the video below:
All training is customised because we know that your dog is unique. Group classes are limited to 4 dogs per class and one adult handler per dog so that everyone can learn in a calm, quiet environment. There are plenty of opportunities to ask questions to provide the solutions that you need to enable your dog to live a happy and fulfilled life.
R+ Dog Training offers a variety of options to suit your needs and your budget.
Choose from:
| | | |
| --- | --- | --- |
| Activity Training | Individual training in the basics needed for specific sports including working to the gun, agility and showing | £90 per hour |
| One-to-one Training | Individual training customised for your needs in and around your own home | £90 per hour |
| Train While You Work | Individual training for your dog in your own home or in arrangement with daycare while you work, with a regular "catch up" at your convenience | £40 per half hour |
| Group Classes | Weekly class with a maximum of 4 dogs per class and an optional workshop following every 6 classes for practising in the real world | See details below |
| Special Training | Individual training for specific needs such as relaxing at the groomer, happy vet visits, stress-free travelling and settling at the cafe | £90 per hour |
Discounts are available for block bookings and for advance group class bookings. Please also see the terms and conditions before you book.
More About Group Classes
You can join group classes at any point so there is no need to wait for the beginning of term. The first lesson is always an Induction to help you to prepare for the first lesson with your dog.  This is usually undertaken individually in your home, but if 3 or more people are joining at the same time, it can be undertaken in a group.
The cost of the Induction is £45.
Lessons are in 6 weekly blocks with an outdoor workshop at the end of each block. It takes a total of 18 weekly lessons to cover the basics and lessons can be purchased in one of three packages:
Package 1: 6 consecutive lessons + 1 workshop, regular handouts and e-mail support.
£180 + £15 for 1 workshop. Free Welcome Pack.
Lessons 1-6 include walking on a loose lead, polite greetings, basic recall and learning to settle.
Workshop 1: walking on a loose lead outdoors.
Package 2: 12 consecutive lessons with a discount of £5 on each workshop, regular handouts and e-mail support.
£360 + £20 for 2 workshops.
Lessons 1-6 as above. Lessons 7 – 12 build on the first 6 weeks and begin to include working with distractions, building duration and working at a distance.
Workshop 1 + Workshop 2: Working on exercises outdoors.
Package 3: 18 consecutive lessons with one free workshop.
£540 + £30 for 3 workshops, regular handouts and e-mail support.
Lessons 1-12 as above. Lessons 13-18 consolidate the learning from the first 12 weeks and include how to make your training foolproof.
Workshops 1 and 2 + Workshop 3: Working on exercises in different locations.
Please make sure that you can commit to at least six weeks of consecutive lessons before you book and all of the sessions if you book a longer package. The Induction and lessons must be paid for in advance and refunds are not made for absence. Full terms and conditions are available here.
You will receive written material every week to support your training and advice by e-mail or telephone is provided whenever possible.
You should plan to for up to three five minute sessions of dedicated training per day outside of class by the end of the first six week block. The more chance your dog has to be rewarded for desired behaviour, the faster you will both learn.
Learning new things can be challenging for you and your dog at first but, time and effort will soon be rewarded with a happy, confident dog that you can take anywhere.
Contact R+ Dog Training now to guarantee your place.