Get a personal trainer for your dog
One to one training, tailored to your specific needs, is now available in the park of your choice or in your back garden.
Book a single session to hone a specific skill or a series of sessions with individual, customised attention and lots of support in between.
Get help to adjust to our "new normal".
Contact me for more details and keep in touch with regular updates and news on my sister site at DogsNet.org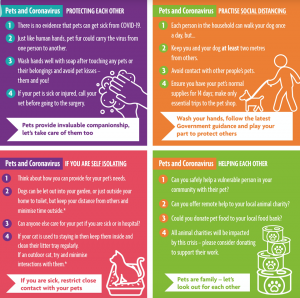 We are all living through unprecedented times and dealing, not only with a new situation, but a new disease. Information is being updated constantly, so it is important to keep up to date with government advice and advice from professional bodies regarding companion animals.
What We Know So Far
The current spread of COVID-19 is a result of human to human transmission. There is no evidence so far that companion animals have spread the disease.
There have been isolated cases of one cat and two dogs testing positive for SARS-COV-2, which appear to have been the result of close contact with infected owners.
A new study from the Academy of Sciences in China found that, when various animals were infected with a high level of the SARS-COV-2 virus, dogs did not transmit the disease or show signs of illness, but cats and ferrets did.
Keeping Safe During The Pandemic
Always follow the latest government advice regarding personal hygiene and isolation. Remember that you can still transmit and spread SARS-COV-2 even if you have no signs or symptoms
Time outdoors is now unlimited and you may see up to six people not from your household at any one time, but remember to keep at least six feet apart at all times
Keep your dog on a lead or long line in all places where this is required and if you are not confident in your recall
Wipe all equipment (collars, leads, long lines etc) with soapy water after each use
Wipe your dog down using pet-safe wipes
Clean litter trays regularly
Minimise physical contact with your pets if you are self-isolating
Make arrangements for your animals to be cared for safely if you are in quarantine or in case you may need to be or to go into hospital
Try to maintain a routine; cats and dogs need predictability
Make arrangements for a competent (preferably qualified and insured) person to walk your dog or employ a qualified trainer to walk and train in case you become ill. Even if you do not need this service now, it is advisable to make enquiries in case you find yourself needing help
Remember that dogs and cats need mental stimulation as well as physical exercise
If you have more people at home than usual, especially if it involves children, make sure that your animals have free access to a quiet space where they can rest and be left alone.
A COVID-19 Survival Guide is available including help on providing exercise and stimulation for your dog and/or cat and ways to ease your pet into a new routine once restrictions are lifted. The guide comes with telephone and/or e-mail support.
Please contact me for more details.
Keep in touch with regular updates and news on my sister site at DogsNet.org
Keep well and safe.